The Indianapolis Garden Club Presents
Wednesday June 5, 2024
9am – 3pm
Indianapolis, IN
Please join us for the 28th annual Indianapolis Garden Club Garden Walk on Wednesday, June 5th from 9am to 3pm. There will be five lovely varied gardens to enjoy come rain or shine!
Let's Talk a Walk and Appreciate Horticulture
Our Past
Gardens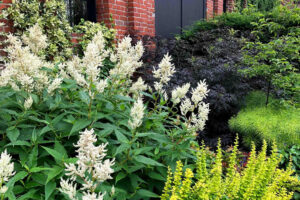 Peek inside this urban oasis and wander through a former taxi garage transformed into a one-of-a kind garden.  Climbing hydrangea and beloved wisteria add a whimsical, welcoming touch to this eclectic space.
Artist: Justin Vining 
A double treat awaits you in this pair of gardens. The first is very traditional–  a church cloister garden reminiscent of 13th century England. Then, just 10 paces away, doors open onto a modern courtyard of sleek and functional design.  How many times have you driven past these hidden treasures?
Artists: Amy B Carroll and Susie Rachles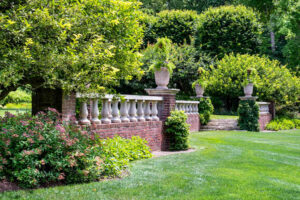 Not far from a busy city thoroughfare is a 1920s Georgian home with six distinct gardens connected by rose-covered pergolas and a wisteria-covered arbor. Wrought-iron entries, soldered by the owner, invite you into each room that include trickling fountains, a 13-foot obelisk and beautiful plantings.
Artists: Cindy Newcomer and Lisa Pelo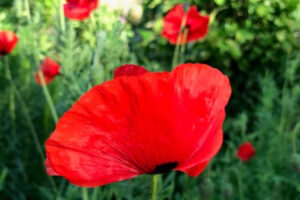 Come explore! See what a twosome of a professional gardener and an artist created from their former fence-to-fence grass yard of an early 1900s home.  Features include mixed borders, a mostly native pocket prairie, room for seasonal displays and lots of homegrown veggies.  Containers filled with collector's plants and curiosities take center stage on both front porch and back dining patios.
Artist: Mary Ann Davis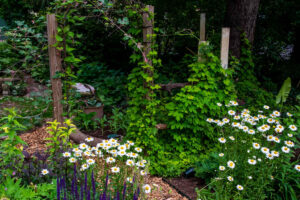 At the end of a cul-de-sac, a quiet garden oasis called "Robbins Nest" awaits.   It's home to hostas, hydrangeas and horseshoes…and benches for easy viewing. Inspired by lush English gardens, one room ushers into the next, each featuring horticultural treasures, distinctive boulders, and items of whimsy.  The rear deck provides the perfect perch for a glass of wine and a moment for quiet reflection.
Artist: Melinda Spear-Huff
Thank You to Our
Wonderful Sponsors
The Indianapolis Garden Club (IGC) was founded in 1921 and is Indiana's oldest statewide garden club. From the time of our founding, IGC has worked to restore, improve and protect the quality of our environment through educational programs and actions in the field of conservation and civic improvements. This year we are inviting you to join us in our efforts by taking The Great Healthy Yard Pledge.
Garden Walk
Additional Information
GENERAL INFORMATION
Gardens are open 9 AM – 3 PM
You may visit gardens in any order
Watch for Garden Walk signs to direct you to parking locations
Wear your walking shoes; there may be some uneven terrain
Be considerate of neighbor's mailboxes, driveways, lawns, garbage and recycling containers.
Please obey parking patterns and signs
Attendees who need accessible drop off may be dropped off and picked up at the entrance to each garden
No Ticket Refunds. Event is rain or shine.

 

Please take precaution should severe weather threaten
Artwork will be available for purchase at the gardens
Notice:

 

In consideration of begin a guest of Garden Walk, I hereby personally assume all risks in connection with such usage and hereby agree to hold the Indianapolis Garden Club (IGC) and its garden owners harmless and I waive my right to make claims or bring lawsuits against IGC or anyone working or volunteering on behalf of the IGC for any injuries or damages related to the alleged negligence of the IGC.